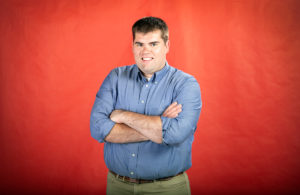 Q: Your Name?
A:  Sam Oldenburg
Q: At what school do you work?
A: Western Kentucky University
Q: How long have you been in student media?
A: 4 as an adviser and 4 as a student.
Q: What are you most proud of at your current Student Media org?
A: I'm proud of my students persevering through this pandemic to still do the best they can under the circumstances while being willing to try out innovative new endeavors. 
Q: What is a fun fact about you, your town, your University?
A:  I worked as a self-employed balloon artist while I was in high school, twisting balloon animals at fairs, festivals and parties
Q: What is a media project you would most like to pick someone's brain about?
A: Programmatic advertising
Q: What is your favorite snack on a road trip?
A: Werther's Original Caramel Hard Candies
Connect with Sam: [email protected]